for simplusb.conf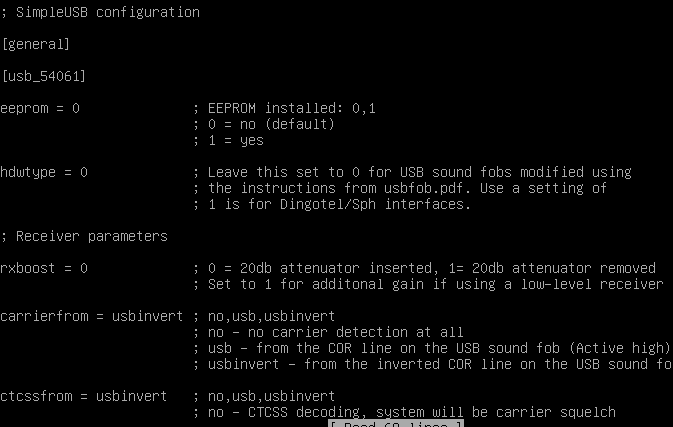 i did not make any changes as it seems okay
Hmmm, are you sure asterisk is running? Run asterisk -rvvv. Do you get the *CLI prompt?
If it's running do module show like sim. You should see chan_simpleusb.so.
If not do asterisk -fnvvv and analyze the failure. Let us know what you see.
Ran asterisk -rvvv, and this is what I got

I don't think asterisk is running?
I have been using the ASL menu to setup my node. I am now in option 4, this is where the error occurred. Should asterisk be running by this time?

Let's exit the menu and do asterisk -fnvvv so we can see why Asterisk is not running.
Ahha! Dahdi is the problem. That's the most difficult problem to fix. My recommendation is to get a Raspberry Pi. But maybe one of the other folks on here is willing to help you with DAHDI on VirtualBox or dual boot.
Was DAHDI not installed? or was installed but not configured properly? which part of the ASL menu deals with DAHDI?
DAHDI is a critical part of Asterisk drivers. There is no menu anything for dahdi. It's must be compiled for the kernel in use.
This Topic discusses the issue:
If you did manage to compile dahdi and get Asterisk running it's questionable that VirtualBox would talk to the USB port reliably if at all. You'd have a better chance with Dual boot.
Thanks for the info. I was hoping that following the beginner's guide and running the installer was all that was needed to get the node up and running.
If DAHDI is a critical part of Asterisk drivers, is it correct to say that it is part of the installer package found in the Downloads page? If it is, what may have caused DAHDI to be not installed on my PC? I have downloaded and ran the installer several times, still no luck.
Seems like a good clew to me.
I see this happen both in VirtualBox and on the dual boot machine. I used different copies of the installer for x86/AMD (downloaded separately) when installing. So there might be a problem with these installers? Who can I consult with regarding this?
Thanks.
The installer builds DAHDI via dkms. While the install is running, you should see the errors. I would also check /var/log/syslog and /var/log/messages.
Another option, rather than loading from an image is to build manually. Instructions are on our Wiki front page under the beta heading.
I installed the Beta 2.0 version for Intel/AMD, and got this error message when starting.

Will update on how the rest of the config went.
I have been finally able to enter the SimpleUSB config menu. I selected the USB device to usb_54061 as shown, then tried to toggle the PTT with the Flash command. Nothing happened.
Tried to set the invertptt=1 option but still nothing happened.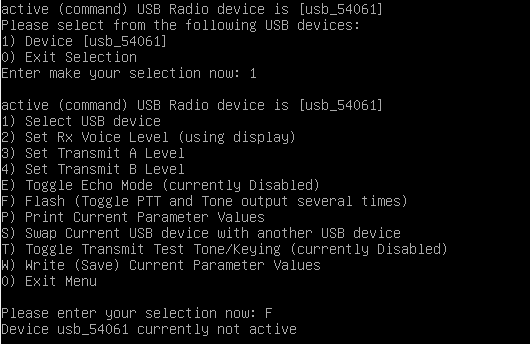 I am using an RA-25 board hooked up to a Yeasu FT8900.
Any ideas?
Is the PTT LED on the RA-25 turning on?
Update:
Hi Tim,
I was finally able to get almost everything running, with the help of K6KWB. He confirmed all my conf were in order, so we focused on the VirtualBox. The culprit was my USB setting. I did not include the RA-25 in the devices to be recognized by the box. Once that was corrected, the LED started working, and I was able to do my first QSO on ALS.
There are still a lot to learn/explore, so please expect more activity from me in the forum.
Thanks for all your help
73,
Boyet 4F3BZ
Node 54061.
This topic was automatically closed 3 days after the last reply. New replies are no longer allowed.