1 month ago I posted the following on the supermon groups io page:
I would like to see features added to Supermon or Allmon2 that support the following:

Allow a Favorite to be added simply by entering the node# and clicking an 'Add Favorite' button on the main page. The favorites.ini then is updated with the favorite, specifically its node# and its name and from the ASL DB. This would be a big step up in user-friendliness vs. the multi-step process of manually editing the cfg file every time.
Show the Favorites list in a multi-row select box on the main page, allow the connected node to be changed to a new favorite simply by clicking on that favorite in the list. This would automatically disconnect any currently connected node and connect to the favorite with only a single click/tap needed on the GUI and a confirm button.
Allow the favorites list shown on the main page to be sorted by node#, name, description, frequency, location, etc.
Allow favorites to be easily edited, deleted, or copied/pasted on the main GUI page.
Add a favorites Scan feature that would connect to favorites one at a time and if there was no activity on one after a configurable time then disconnect and try the next favorite.

The above features would essentially give ASL the same memory management and scan capabilities that analog FM radios have had for many many years. This would be a natural evolution and nice improvement in core functionality for Supermon/Allmon. Having been a PHP developer for many years I could do this myself in a few weeks of time, but maybe someone else already had some of the same ideas or would like to do it.

This brings up some questions:

Allmon2 is open-source and has a github repository. But what about Supermon? The code would clearly seem to be open-source since it's all plain text php running on your node. But how do people contribute to it?
If I were to implement this feature I would probably clean up some other things about AM2 and SM7 while I was at it. The GUIs for both are pretty old-school. I would upgrade things a bit make sure everything is html5, css3, mobile-friendly (eg. viewport tags), clean up w3c validation issues, etc. Maybe go to more of a CSS grid/flexbox/PiStar dashboard type of modular layout. Has anyone else thought about doing these kinds of improvements?

Thanks,
David NR9V
There was then further discussion and more details on the history of AllMon/SuperMon and it seemed there was indeed no app that did what I wanted, or anyone working to add those features. So I started on a new app last week and it is going very well. Sneak preview: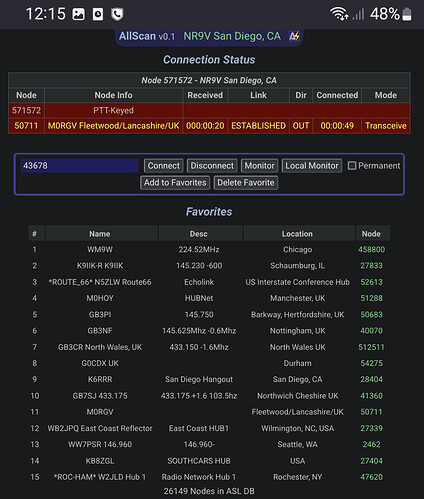 Still lots of work to do, so far just shows the node status and is able to import favorites.ini, allows favorites to be connected/disconnected with a single click (rather than having to disconnect previous connection, go to a separate tab, select from a list, etc.), and will support scanning all favorites or scan groups. Should be ready for alpha testing in a few weeks.
I also mentioned in the supermon post:
In considering what Allmon/Supermon do and how I use them, for the most part other than some occasional maintenance stuff the only thing I do with either on a daily basis is connect and disconnect nodes, and maybe look at the CPU temp. So it's really just those 2 buttons that I'd need in a scanning app, and there's really no reason to make this app a part of Allmon or Supermon, at least not initially. It could always be added later as a plugin/module that gets pulled into a div on the main page just by adding a simple php include. So I plan to start on this app…and will post on here and the ASL forum then with more info. It should be very simple to implement. I think I'll call it AllScan. You heard it here first. I did a web search for AllStar AllScan and nothing came up so it looks like the name is available. I'll then put it in github repo and on a website and will encourage anyone to make contributions/feature additions/forks/etc.
All coding has been done to the latest web development standards and best-practices, with php, javascript, html, and css cleanly partitioned, and following an MVC architecture. It is 100% mobile-friendly and optimized to be as easy to use as possible on both small and large screens. Example code excerpt of the php code that generates the Favorites table using an Html class:

I will post updates here as AllScan progresses and if anyone has any questions or would like to help with testing let me know. Thanks, David