How do Iget my phone portal to work on my node?
Well, I assume you are referring to a sip phone…
You did not mention which direction you are getting the busy signal.
If you are refering to a SIP phone,
know that you must enable sip in modules.conf
and then post your sip.conf, MASKING YOUR PASSWORDS
And we will have a look with a better description of the issue.
Overnight, after thinking about your query, I realized you are more likely talking about the allstartlink telephone portal.
And I don't have a answer for you if so, but was going to post you a link to the set-up info, but I could not locate it in my short time this morning. You might try the wiki or a search though this board to come up with a answer. Or wait for a knowledgeable reply as I have never used the ASL phone portal.
(i use sip and iax trunks)
Login to www.allstarlink.org, select Portal, Node Settings, then your node number. Change the values to allow reverse access and/or reverse autopatch.
Now you can dial the number Mike mentioned (763) 230-0000 and follow the prompts.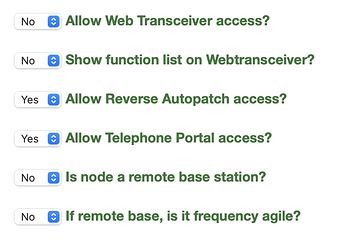 Also make sure your node is accessable from the internet (correct port forward entries exist, etc).
Jim, K6JWN